Arizona Excavating Services by Cooper's Sewer and Drain
Excavating Services for Apache Junction, Queen Creek, Chandler, Phoenix, Mesa, Tempe, and the rest of the Eastern Phoenix Valley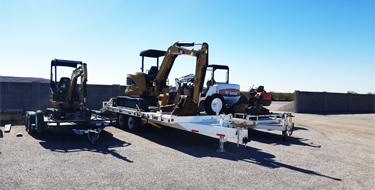 Many major septic, sewer, and drain repairs may require excavation. Cooper's Sewer & Drain has you covered.
Cooper's Sewer and Drain is a leading provider of Excavations services in the East Valley of the Phoenix metro area. Our team is always equipped to efficiently conduct and complete excavations in a safe fashion and as quickly as possible. We will keep you informed throughout every step of the process to ensure you understand what is being done.
---
Call us at (480) 982-7829 to schedule your excavation estimate today.
---
Common Excavation Services in Mesa, Tempe, Queen Creek, and the East Phoenix Valley:
Septic System Abandonments
City Sewer Tie-ins
Septic Line Repair
Sewer Line Repair
About Cooper's Sewer & Drain Excavation Services
By using sophisticated camera-locating, we can find pipes under blacktop, asphalt, and concrete before we start digging to make 100% sure we're in the right spot.  This saves time, cost, and unnecessary disturbance to your property. Our concrete saw cutting allows us to selectively remove sections of concrete to avoid excessive damage and to retain the integrity of the structure as much as possible. And when the job gets really tough, we use the Bobcat w/500 Jack Hammer to break through even the thickest concrete.
We offer excavation services to the entire East Phoenix Arizona Valley, including in and around the following zip codes: 85120, 85142, 85201, 85202, 85203, 85204, 85205, 85206, 85207, 85208, 85209, 85210, 85212, 85213, 85215, 85233, 85234, 85281, 85283, 85142, 85204, 85206, 85209, 85212, 85234, 85296, 85140, and 85242.